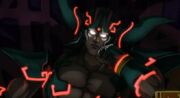 Nokturnus (ダークドレアム, Dark Drium in the earliest Game Boy Dragon Quest Monsters games, Dark Dream in fan translations) is a notable figure and one of the most merciless, powerful and brutal villains in the Dragon Quest series and the devil of its multiverse. This dreadful figure presents himself as an entity with no master and with the sole desire of returning everything to nothingness. He could also be seen as the exact opposite of the compassionate Goddess.
He originated as an optional super boss within a secret dungeon in Dragon Quest VI for Super Famicom, and its remake for Nintendo DS. Since then, this foe has had many appearances in the saga; one of his most notable ones is in Dragon Quest Battle Road Victory, where he's the leader of all the final bosses up to DQIX.
Nokturnus is first encountered as the demon that the king of Castle Graceskull in the Dream World tries to summon in order to stop The Archfiend. Things don't go as planned, the brutal demon refuses to take orders from anyone and he ends up burning the whole castle. The heroes are returned to the Real World where the castle is already destroyed, its tragic fate can be experienced again and again if the hero enters the well. He serves as the game's most powerful opponent, surpassing even DQVI's final boss in difficulty. Nokturnus resembles a humanoid warrior with a powerful staff/spear weapon.
Community content is available under
CC-BY-SA
unless otherwise noted.